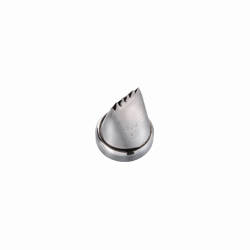 Noor Icing Nozzle – Upright Band – Fluted – Design – 25
In stock
Description
Go ahead and decorate your cakes and cupcakes like a Boss!
Noor Icing Nozzle – Upright Band – Fluted – Design – 25
Material : stainless Steel
Package contains 1 Standard Size Stainless Steel Nozzle
Can be used with parchment paper or fabric/silicon/cloth/plastic piping bags.
Attach or fit the nozzle to the bag, prior to filling the bag, with icing. Squeeze with optimum pressure to form desired pattern.
Related products