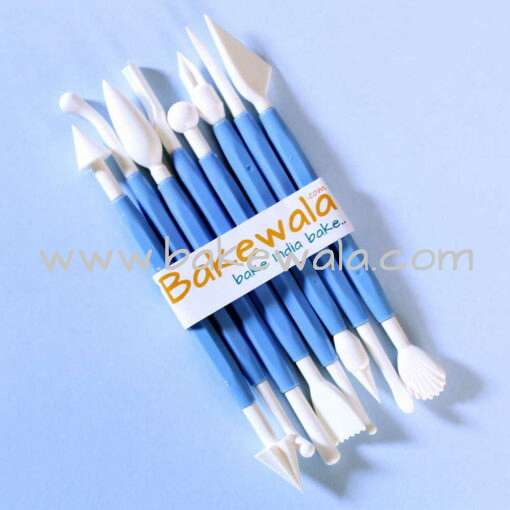 Sculpting Tool Set – 8 pieces
In stock
Description
Add precise details to sugar crafts and create marvelous art work. Sculpt, shape, chisel, carve, mould and imprint sugar paste flowers, buds, leaves, tendrils and other decorations with this cool bone tool set. This 8-in-1 cake decorating sugar craft modelling sculpting tool includes 8 double-ended (16 shapes) sculpting tools.
Bone tool: Enables you to even out the edges of the elements like petals, leaves or even frills.
Shell & Blade tool: Enables you to create embossed shell patterns and borders.
Ball tool: Helps you to cup and shape floral elements and frills.
Scallop and Comb tool: The comb end helps in marking and embossing a serrated design or pattern and the scallop is ideal to sculpt out facial features like eyes, lips, nose and so on.
Serrated and Tapered Cone tool: Used for indentations and embossing.
Tapered Cones 5/6 Star tool: Used as a single star embosser
Bulbous Cone tool: is a tool that can be used to hollow and emboss or chisel out intricate frills.
Flower Leaf Shape Tool: as the name suggests a flower shape tool, is perfect for creating fine detailed veins on leaves and flowers.
How to use ? The below video depicts the use of same or similar product.
Related products
Adithiyaa 55
31. October, 2022.
Most bakers were mostly worried about the ingredients cost here at bakewala with business account you will get at very competitive price and i suggest many people to go and check it out
Banu G S
26. October, 2022.
rohan palkar
18. October, 2022.
Very good stock and you will get all sorts of baking needs The store is compact but very well organized and staff is polite and helpful
MAYA K
14. October, 2022.
Why no store WhatsApp number provided??
Vivek Pandey
10. October, 2022.
Arun Kumar
7. October, 2022.
Priyabrat pegu
7. October, 2022.
AR FASHION DESIGNER BOUTIQUE Arif
2. October, 2022.
Good stitching and fiting
Mahendar Kumar
2. October, 2022.
Shailesh Velaparambil
30. September, 2022.
Great pricing and very professional in delivery. They have a good functional website. Delivery charges by kg. Quality ingredients sold.