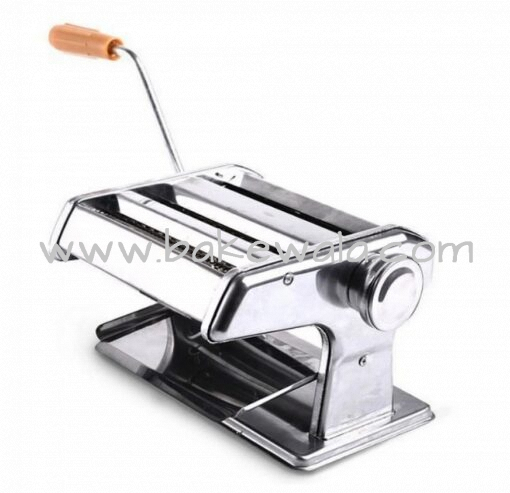 Pasta Machine -150mm wide
Out of stock
Description
Fresh, aromatic and homemade!! Just these words are enough to make you feel good about the food you eat. With this Pasta machine, you can make fresh homemade pasta at the comfort of your home, within no time.
Take pride in making exotic Italian pasta all by yourself with this absolutely easy to use, hand operated, chrome plated pasta machine.
The Pasta Machine has three inbuilt rollers that allow you to make authentic Italian spagetti or vermicelli.
This pasta machine is operated by turning a crank handle that aids in moving the rollers and presses out the dough. The pasta maker has a robust build and firm grip but however, a stable surface is essential for the machine to operate smoothly.
To use this pasta machine, run your dough through the roller, couple of times, until the dough lengthens and flattens into a long thin sheet. Sheets of 150 mm wide can be obtained with the help of this machine. Cut the sheet then to your desired length before running it through the cutter roller of your choice to turn the sheet into strands of fresh spagetti or vermicelli.
This pasta maker comes with a clamp that securely holds machine to table or countertop to ensure the machine does not move.
Product dimensions: Length x Breadth x Height: 5.1 inches (13 cm) x 7.0 inches (18 cm) x 5.1 inches (13 cm)
Related products
Gross Wt.- 0.086kg&nbsp&nbsp
₹

165
750 reviews on
Minu Radhika
1. March, 2023.
I had a great experience with bakewala. The staffs are very friendly and helpful. Thank you Ms. Pushpa for your prompt reply and help.
VNVM Sailesh
22. February, 2023.
Bandenawaz Pmk
21. February, 2023.
KirthanaReddy Bheemidi
21. February, 2023.
We will get everything over there for baking
SK's Accounts
13. February, 2023.
Alom Uddin
10. February, 2023.