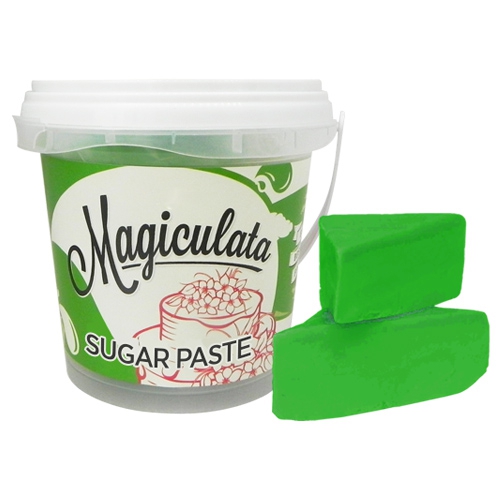 Magiculata – Fondant or Sugar Paste – Garden Green – 1 kg
Out of stock
Description
The choice of champions! Magiculata Sugar Paste is specially designed for cake craft lovers who wants to take their craft to the next level. The smooth texture, pliable nature, stability and ease of use makes it a great choice for first time users as well for professionals.
Package contains 1 kg of Ready to Roll Magiculata Sugar Paste or Fondant
Highly suitable for Indian weather conditions.
Usage: Remove sugar paste from package and knead on a clean surface dusted with icin sugar or corn flour. Roll out to desired thickness. Extremely important to KNEAD THE FONDANT before use to activate its colour, pliability, smoothness and stretchability
Store in a cool, dry, dark & hygienic condition
Best before 24 months from packaging
For Industrial use as raw material
Highly pliable
Delicious unique signature taste
Soft and smooth
Can be worked at room temperature without air-conditioning
Workable at highest humidity levels of 92-95%
Workable at high temperatures of 45 degrees
Does not melt
Does not sweat
No cracking
No tearing
No elephant skin
No taste change after opening the pack
Packs of 4 in 1 kg tubs for easy and convenient workability
Vegan
Fssai approved
2 years shelf life
Adithiyaa 55
31. October, 2022.
Most bakers were mostly worried about the ingredients cost here at bakewala with business account you will get at very competitive price and i suggest many people to go and check it out
Banu G S
26. October, 2022.
rohan palkar
18. October, 2022.
Very good stock and you will get all sorts of baking needs The store is compact but very well organized and staff is polite and helpful
MAYA K
14. October, 2022.
Why no store WhatsApp number provided??
Vivek Pandey
10. October, 2022.
Arun Kumar
7. October, 2022.
Priyabrat pegu
7. October, 2022.
AR FASHION DESIGNER BOUTIQUE Arif
2. October, 2022.
Good stitching and fiting
Mahendar Kumar
2. October, 2022.
Shailesh Velaparambil
30. September, 2022.
Great pricing and very professional in delivery. They have a good functional website. Delivery charges by kg. Quality ingredients sold.