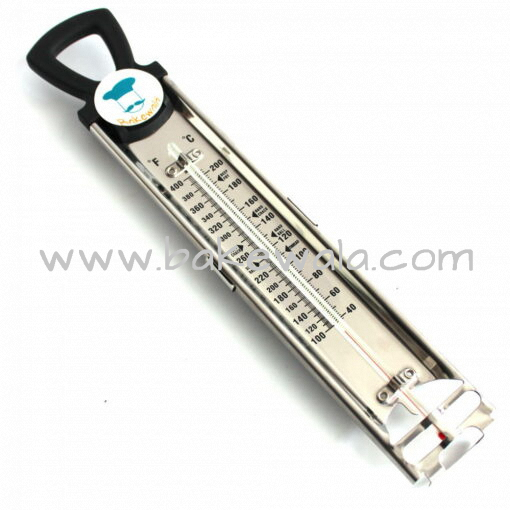 Candy Thermometer
Out of stock
Description
This precision stainless steel thermometer is perfect for measuring accurate temperature while making hard candy, jams, sugar syrup, caramel, meringue, glaze, nougat, fudge and more.
Just clamp the thermometer to the side of a bowl or a pan; the bulb is held securely without touching the sides for providing you with precise readings.

Measures from 60 degrees to 400 degrees Fahrenheit and 20 degrees to 200 degrees Celsius

Package contains 1 unit of Thermometer.

Handle with care. Dropping or rough handling can cause a shift in the thermometer's reading.

Material: Stainless Steel
Related products
Adithiyaa 55
31. October, 2022.
Most bakers were mostly worried about the ingredients cost here at bakewala with business account you will get at very competitive price and i suggest many people to go and check it out
Banu G S
26. October, 2022.
rohan palkar
18. October, 2022.
Very good stock and you will get all sorts of baking needs The store is compact but very well organized and staff is polite and helpful
MAYA K
14. October, 2022.
Why no store WhatsApp number provided??
Vivek Pandey
10. October, 2022.
Arun Kumar
7. October, 2022.
Priyabrat pegu
7. October, 2022.
AR FASHION DESIGNER BOUTIQUE Arif
2. October, 2022.
Good stitching and fiting
Mahendar Kumar
2. October, 2022.
Shailesh Velaparambil
30. September, 2022.
Great pricing and very professional in delivery. They have a good functional website. Delivery charges by kg. Quality ingredients sold.