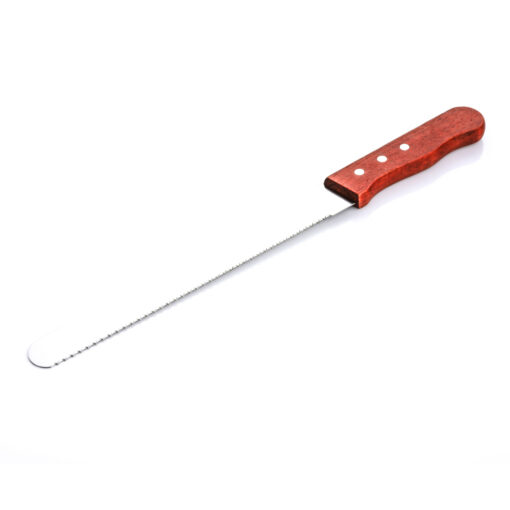 Bread Knife with Wooden Handle – Blade – 10 inches Type 2
Out of stock
Description
Bread Knives are used to cut/slice bread, cakes, roasted meat or delicate-skinned fruits and vegetables. The serrated blades of bread knives enable to cut in a precise and clean manner. The bread knife helps in slicing bread or cakes with fewer crumbs and minimal compression and avoids tearing of delicate skinned fruits or veggies.
The knife retains its sharpness and the steel blade does not require any sharpening.
The wooden handle offers firm grip
Material- Steel with wooden handle
Dimensions = Total length = 38 cm, Blade length =  25cm Width = 2.8cm
Package contains-1 unit of the Bread Knife
Related products
Gross Wt.- 0.077kg&nbsp&nbsp
₹

200
753 reviews on
Gopi Nath
15. October, 2023.
Harshil Bhalani
11. October, 2023.
Raj Vasoya
11. October, 2023.
Prince Kapadiya
11. October, 2023.
Prince Vekariya
11. October, 2023.
Krish Mavani
11. October, 2023.
Pipson Mampilli
7. October, 2023.
excellent experience. highly recommended. 👍👍👍👍👍
Leshma Shaju
16. August, 2023.
ansar mohinuddin
2. August, 2023.