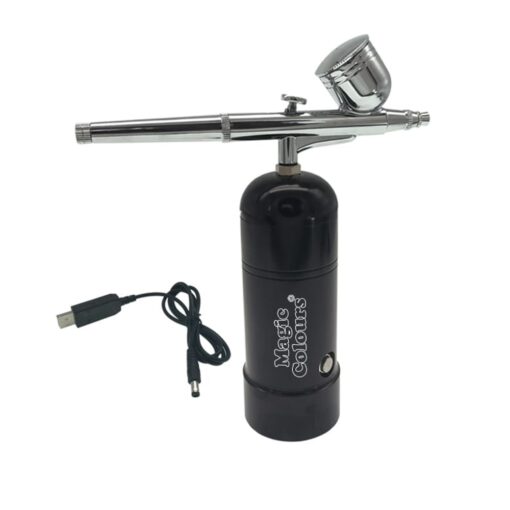 Airbrush Machine Kit Mini Portable – Magic Colours
Description
A high quality mini portable airbrush kit with an in-built powerful mini air compressor and a chargeable battery.
WARRANTY: Comes with 1 year warranty against manufacturing defect. The Replacement / Repair  service will be provided by the Magic Color distributor in India. Customers would have to contact the distributor directly for claiming warranty. Distributor Details are mentioned on the package.
PACKAGE CONTAINS:
Air Compressor (Chargeable)
Air brush Gun
Charger
USB line
Instruction Manual
CHARACTERISTICS:
Portable Air Compressor
Easily chargeable with a USB Charger
Special Battery: Polymer Lithium 7-4 V 500 mAH Chargeable
Working Pressure : 0-17.4 psi
Needle/Nozzle diameter 0.4mm
Fluid up capacity 7cc
Constant air flow
Easy to maintain
APPLICATIONS:
Cake Decorating
Craft
DIY Projects
Graphic Arts
Hobby
Nail Art
Stenciling and more
Click here to buy compatible Airbrush Colors from Magic Colors.
How to Clean the Airbrush Machine:
Mostly the reason for colour not to be sprayed correctly out of the airbrush is an uncleaned or clogged airbrush. You must make sure that your airbrush is thoroughly clean:
1. Cleaning must occur immediately after use, to prevent drying of colour inside airbrush.
2. Remove all leftovers from the airbrush using a cleaner liquid or warm water.
3. Soak the airbrush nozzle and cup into a cup full of water and circulate until clean.
4. With a cloth, clean the inner of the colour cup, you may find residues.
5. Carefully clean the Needle. If you are not sure how to disassemble the airbrush, stop ! consult an expert, or use a tutourial.
6. Make sure your nozzle is clean.
How to use ? The below video shows how to clean the product.
Related products
757 reviews on
Bharath Venu
4. May, 2023.
Collection to allow no attention to customers ,
srabani tarafder
24. April, 2023.
Hemraj Khanal
5. April, 2023.
vijay satyanarayana pathi
23. March, 2023.
Nissan official Channel
19. March, 2023.
Michelle Escottee
15. March, 2023.
Minu Radhika
1. March, 2023.
I had a great experience with bakewala. The staffs are very friendly and helpful. Thank you Ms. Pushpa for your prompt reply and help.