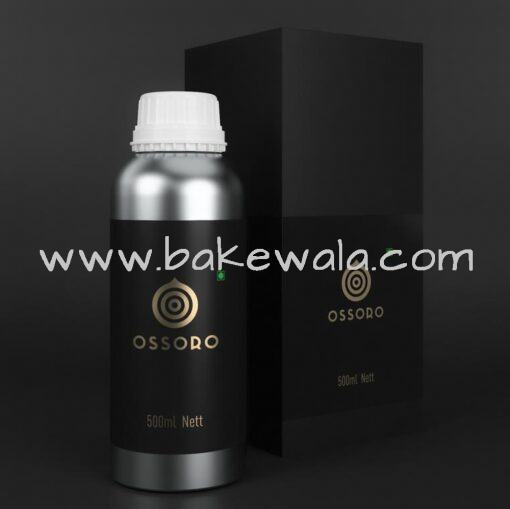 Ossoro – French Vanilla Food Essence or Flavour – 500 ml
Out of stock
Description
Ossoro flavors are a unique concoction of natural fruits and plant based extracts sourced from all over the world. This flavour is great for cookies, cakes, cupcakes, desserts, syrups, confectioneries and more.
The French Vanilla flavour imparts the natural and rich aromatic character of the French Vanilla bean accompanied with a sweet nutty buttery twist. This flavour blend is bake stable, works at low dosage and masks the smell of eggs.
Ossoro recommends using 1.5-2 ml of flavour per kilo of cake dough. Each ml measures approximately 20 drops of the essence. This product is 100% vegetarian, contains no preservatives and is free from spirit. Suitable for all baked goods, desserts and culinary preparations.
All ingredients used are approved and permitted by FEMA and GRAS standards. The products are manufactured under FSSC 22000 systems and controls.
The products are bake stable,and work at temperatures as high as 200-250 degrees Celsius.
Package contains 500ml essence
Ingredient Type: Vegetarian, Water Soluble

Shelf Life: 24 months from date of manufacture

Ingredients:

Propylene glycol, natural flavouring substances, nature identical flavouring substances, artificial flavouring substances and permitted natural food colour e150 d.

Free from spirit.

Suggested Dosage: 0.15 – 0.2% (1.5 – 2ml per litre/kg of dough base).

Usage: Store this product in cool and dry place and away from sunlight or moisture.
How to use ? The below video depicts the use of same or similar product.

Related products
753 reviews on
Gopi Nath
15. October, 2023.
Harshil Bhalani
11. October, 2023.
Raj Vasoya
11. October, 2023.
Prince Kapadiya
11. October, 2023.
Prince Vekariya
11. October, 2023.
Krish Mavani
11. October, 2023.
Pipson Mampilli
7. October, 2023.
excellent experience. highly recommended. 👍👍👍👍👍
Leshma Shaju
16. August, 2023.
ansar mohinuddin
2. August, 2023.