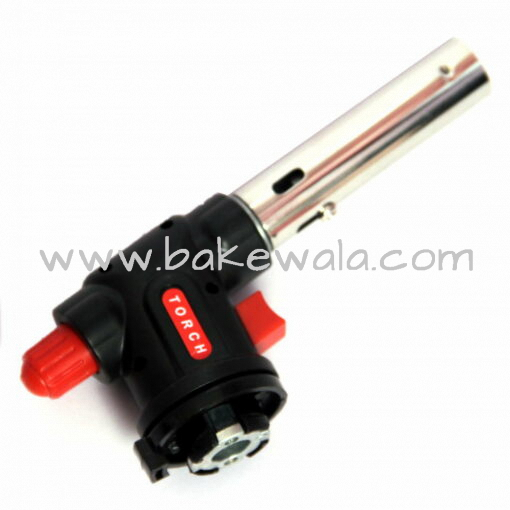 Multi Purpose Blow Torch – Flame Gun
Out of stock
Description
A sophosticated kitchen tool, the one touch automatic piezo-ignition multi-purpose torch with piezo ignition, is great to create various treats for the eye. It is essential for flambeing, caramelising, browning, adding colour and texture to food, blistering and skinning, finishing touches, presentation or to add drama when serving.
Explore its myriad uses in the kitchen for both desserts, baked goods and savouries. Ideal for caramelizing sugar on creme brulee, browning meringues, searing tomato peels, melting cheese, roasting capsicum peels, glazing ham, for sugar garnishes and much more.
Its ergonomic, ultra light, compact design fits easily into the hand.
Apart from cooking and catering use, It is also useful in the workshop or to thaw frozen water pipes, for model making, hobby and craftwork, soldering pipe joints, paint stripping and much more.
Only use in well ventilated areas. Keep away from flammable materials and sources of fire.
Please note Gas refill/cartridge is not included in this pack for safety reasons, while in transit.
How to use ? The below video depicts the use of same or similar product.
Related products
Adithiyaa 55
31. October, 2022.
Most bakers were mostly worried about the ingredients cost here at bakewala with business account you will get at very competitive price and i suggest many people to go and check it out
Banu G S
26. October, 2022.
rohan palkar
18. October, 2022.
Very good stock and you will get all sorts of baking needs The store is compact but very well organized and staff is polite and helpful
MAYA K
14. October, 2022.
Why no store WhatsApp number provided??
Vivek Pandey
10. October, 2022.
Arun Kumar
7. October, 2022.
Priyabrat pegu
7. October, 2022.
AR FASHION DESIGNER BOUTIQUE Arif
2. October, 2022.
Good stitching and fiting
Mahendar Kumar
2. October, 2022.
Shailesh Velaparambil
30. September, 2022.
Great pricing and very professional in delivery. They have a good functional website. Delivery charges by kg. Quality ingredients sold.