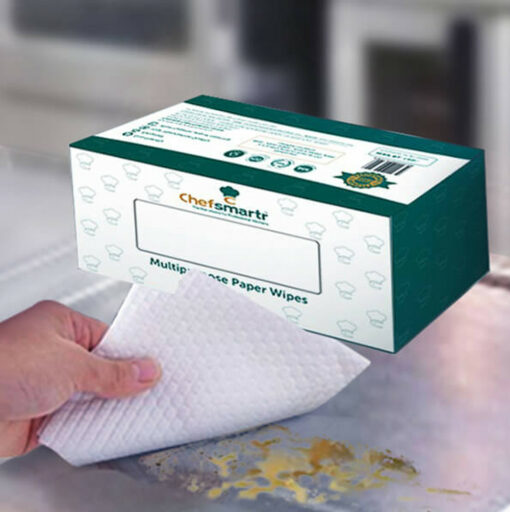 Chefsmartr – Multi Purpose Paper Wipes – 16 X 20cm
In stock
Description
Multipurpose towels can be used for a plethora of needs. The paper towel is highly absorbent, larger than a snack serviette, and therefore great to wipe hands/surfaces/spills and wherever else required.
As these multipurpose towels have an FDA certification they are safe to use to temporarily wrap food or blot excess oil if needed.
Applications:
● Wipes soak and clean up the mess.
● Very effective & hygienic for hand wiping.
● Can be used as napkins on the dining table.
● Prevents Food items like bread, chapattis, etc from turning soggy.
● Absorbs Excess oil from food.
● Hygienic wipes for your Kitchen.
Features:
● One paper with multiple applications.
● Highly absorbent tissues.
● Safe for contact with food.
Size:
● Sheet dimension: 16 X 20cm
● Each case contain 250 sheets
Related products
753 reviews on
Gopi Nath
15. October, 2023.
Harshil Bhalani
11. October, 2023.
Raj Vasoya
11. October, 2023.
Prince Kapadiya
11. October, 2023.
Prince Vekariya
11. October, 2023.
Krish Mavani
11. October, 2023.
Pipson Mampilli
7. October, 2023.
excellent experience. highly recommended. 👍👍👍👍👍
Leshma Shaju
16. August, 2023.
ansar mohinuddin
2. August, 2023.