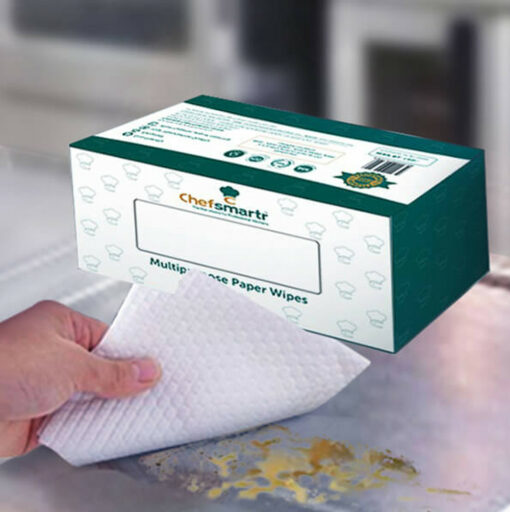 Chefsmartr – Multi Purpose Paper Wipes – 16 X 20cm
In stock
Description
Multipurpose towels can be used for a plethora of needs. The paper towel is highly absorbent, larger than a snack serviette, and therefore great to wipe hands/surfaces/spills and wherever else required.
As these multipurpose towels have an FDA certification they are safe to use to temporarily wrap food or blot excess oil if needed.
Applications:
● Wipes soak and clean up the mess.
● Very effective & hygienic for hand wiping.
● Can be used as napkins on the dining table.
● Prevents Food items like bread, chapattis, etc from turning soggy.
● Absorbs Excess oil from food.
● Hygienic wipes for your Kitchen.
Features:
● One paper with multiple applications.
● Highly absorbent tissues.
● Safe for contact with food.
Size:
● Sheet dimension: 16 X 20cm
● Each case contain 250 sheets
Related products
Gross Wt.- 0.836kg&nbsp&nbsp
₹

433