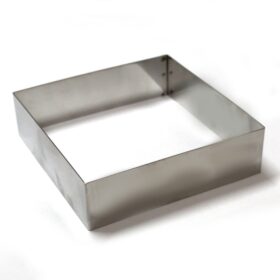 Cake Ring – Square – 4.5 inches
In stock
Description
Cake Rings are ideal for layering and molding cakes and pastry desserts. Cakes release easily due to the bottomless design. Cake Rings are also great when assembling baked layers, cheesecakes, puddings and mousses, or for plating up sweet or savoury dishes.
Package Contains: 1 unit of square ring
Material: Steel Finish
Dimension : 4.5 inches, Height = 2″ (Approximate)
Reviews (0)
Only logged in customers who have purchased this product may leave a review.
Related products
Gross Wt.- 0.033kg&nbsp&nbsp
₹

180