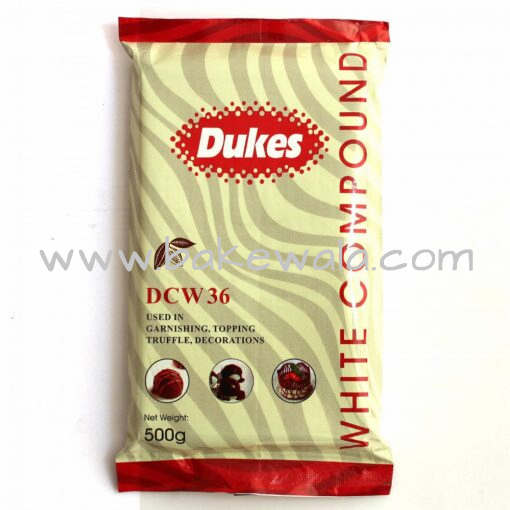 Dukes – White Compound Dcw 36 Slab – 500g
Out of stock
Description
PLEASE NOTE: DUE TO THE CURRENT WEATHER CONDITIONS, THE COMPOUND SLABS MAY MELT, WHILE IN TRANSIT. PLEASE REFRIGERATE BEFORE USE AND ALLOW IT TO SOLIDIFY AND ONLY THEN UNPACK. WE ASSURE YOU THE QUALITY AND TASTE OF THE PRODUCT WOULD REMAIN UNAFFECTED OR UNALTERED.
Package contains a single slab of the White compound
Slab Dimensions :19cm X 11cm X 2cm
Weight : 500 g
Manufacturer: 3F INDUSTRIES LIMITED.

It is ideal for multiple applications: molded chocolates, assorted chocolates, ganache, garnish, truffles, donut centre, filling crèmes, biscuits, cookies, muffins, ice-creams, decorations etc.

Usage: Continuous stirring suggested, while melting. Do not mix chocolate and compound. Avoid moisture contact.
Store in a cool, dry place; away from strong odour and direct sunlight. Recommended conditions: 20 degrees Celcius and 55%RH
Best before 12 months from packaging
757 reviews on
Bharath Venu
4. May, 2023.
Collection to allow no attention to customers ,
srabani tarafder
24. April, 2023.
Hemraj Khanal
5. April, 2023.
vijay satyanarayana pathi
23. March, 2023.
Nissan official Channel
19. March, 2023.
Michelle Escottee
15. March, 2023.
Minu Radhika
1. March, 2023.
I had a great experience with bakewala. The staffs are very friendly and helpful. Thank you Ms. Pushpa for your prompt reply and help.