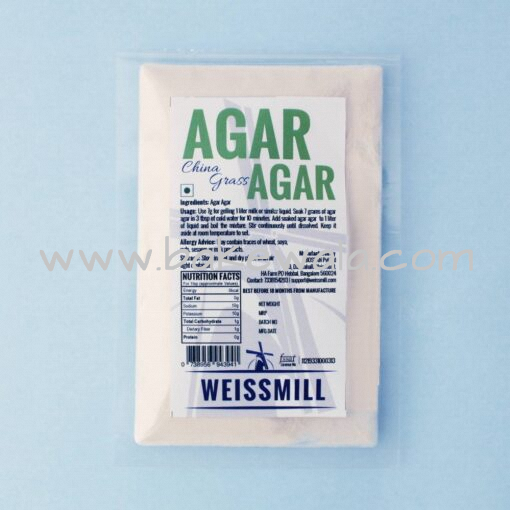 Weissmill – Agar Agar Powder – 500g
In stock
Description
Packet Contains 500g of Agar Agar, China Grass Powder.
Ingredients: Agar Agar
100% Vegetarian, 100% Natural.
Brand: Weissmill – Premium Grade Baking ingredients
Directions for use : Use 7g for gelling 1 liter milk or similar liquid. Soak 7 grams of agar agar in 3 tbsp of cold water for 10 minutes. Add soaked agar agar to 1 liter of liquid and boil the mixture. Stir continuously until dissolved. Keep it aside at room temperature to set.
Used in pudding, Ice creams, jellies, f

alooda, kheer, halwa, salad dressings, confectionary use, dairy products and more.

Acts as a great stabilizing and gelling agent.

It can also be used as a laxative, a vegetarian gelatin substitute, or to thicken soups, sauces or preserves.

Store in a cool dry place, free from moisture.
Best before 18 Months from the date of manufacture.
For hygiene reasons, returns are not accepted for edible items.
Related products
753 reviews on
Gopi Nath
15. October, 2023.
Harshil Bhalani
11. October, 2023.
Raj Vasoya
11. October, 2023.
Prince Kapadiya
11. October, 2023.
Prince Vekariya
11. October, 2023.
Krish Mavani
11. October, 2023.
Pipson Mampilli
7. October, 2023.
excellent experience. highly recommended. 👍👍👍👍👍
Leshma Shaju
16. August, 2023.
ansar mohinuddin
2. August, 2023.