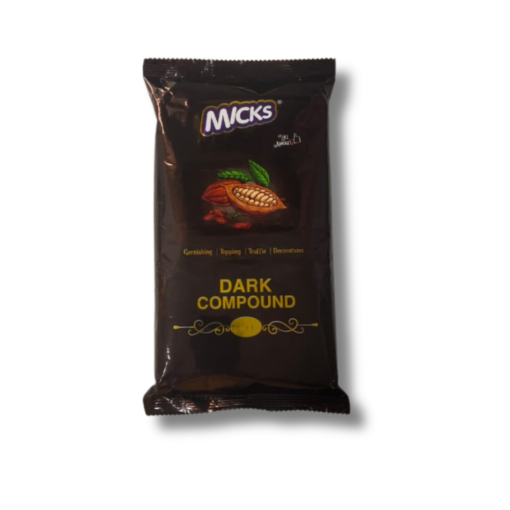 Micks – Dark Compound DC 11 Slab – 500g
Out of stock
Description
PLEASE NOTE: DUE TO THE CURRENT WEATHER CONDITIONS, THE COMPOUND SLABS MAY MELT, WHILE IN TRANSIT. PLEASE REFRIGERATE BEFORE USE AND ALLOW IT TO SOLIDIFY AND ONLY THEN UNPACK. WE ASSURE YOU THAT THE QUALITY AND TASTE OF THE PRODUCT WOULD REMAIN UNAFFECTED OR UNALTERED.
Package contains a single slab of the Dark compound
Slab Dimensions :19cm X 12cm X 2cm
Weight : 500 g
Manufacturer : H-Dukes Consumer Care Ltd..
Usage: Continuous stirring suggested, while melting. Do not mix chocolate and compound. Avoid moisture contact.
Store in a cool, Hygienic and Dry place; away from strong odour and direct sunlight.
Best before 12 months from packaging
Related products
Gross Wt.- 0.239kg&nbsp&nbsp
₹

266
753 reviews on
Gopi Nath
15. October, 2023.
Harshil Bhalani
11. October, 2023.
Raj Vasoya
11. October, 2023.
Prince Kapadiya
11. October, 2023.
Prince Vekariya
11. October, 2023.
Krish Mavani
11. October, 2023.
Pipson Mampilli
7. October, 2023.
excellent experience. highly recommended. 👍👍👍👍👍
Leshma Shaju
16. August, 2023.
ansar mohinuddin
2. August, 2023.