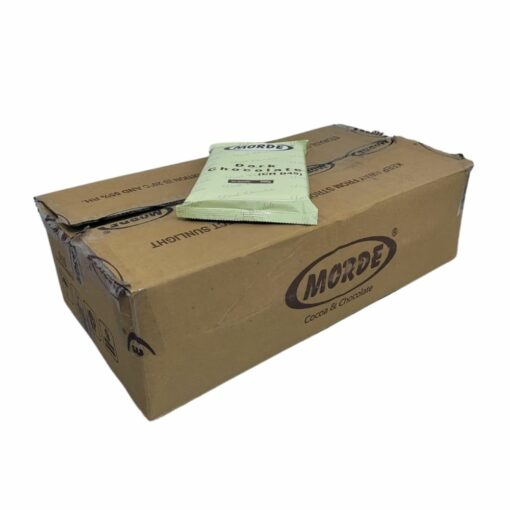 CHD45 -Morde Dark Chocolate Slab – 10 Kg Box of 400g Slabs
In stock
Description
PLEASE NOTE: DUE TO THE CURRENT WEATHER CONDITIONS, THE COMPOUND SLABS MAY MELT, WHILE IN TRANSIT. PLEASE REFRIGERATE BEFORE USE AND ALLOW IT TO SOLIDIFY AND ONLY THEN UNPACK. WE ASSURE YOU THE QUALITY AND TASTE OF THE PRODUCT WOULD REMAIN UNAFFECTED OR UNALTERED.
Real Dark Chocolate CHD 45
Package contains 10 Kg Box of 400 g real dark chocolate.
Weight : 400 g
Manufacturer: Morde Foods Pvt ltd
Usage: Make slabs into pieces, keep in double walled melting kettle (double boiler method) and melt at 40 to 50 Degree Celsius.
45% composition
Avoid moisture contact. Do not mix chocolates and  compounds.
High temperature causes lumping and burned particles. You can also melt using microwave.
Store in a cool, dry place; away from strong odour and direct sunlight. Recommended Conditions: 20 degrees Celcius and 55% RH
Best before 12 months from packaging
The product is intended for institutional use as raw material
Allergen Information: May contain Soy. May contain traces of milk solids.
Related products
753 reviews on
Gopi Nath
15. October, 2023.
Harshil Bhalani
11. October, 2023.
Raj Vasoya
11. October, 2023.
Prince Kapadiya
11. October, 2023.
Prince Vekariya
11. October, 2023.
Krish Mavani
11. October, 2023.
Pipson Mampilli
7. October, 2023.
excellent experience. highly recommended. 👍👍👍👍👍
Leshma Shaju
16. August, 2023.
ansar mohinuddin
2. August, 2023.