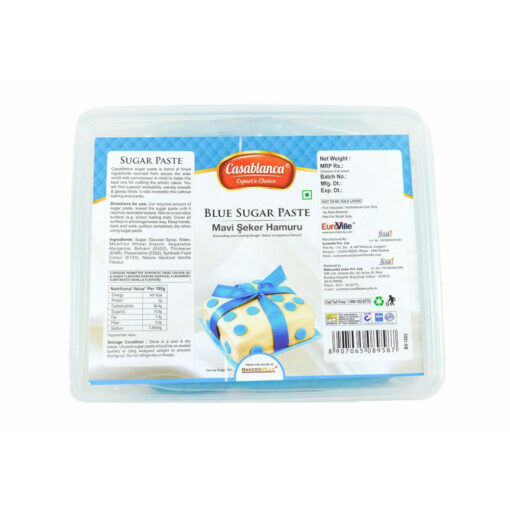 Casablanca – Sugar Paste – Blue – 1kg
In stock
Description
Casablanca Sugar paste is blend of finest ingredients sourced from across the wide world with connoisseur in mind to make the best one for crafting the artistic cakes. You will find superior workability, velvety smooth & glossy finish. It rolls incredibly thin without tearing or cracking up.
Weight: 1Kg.
Used for coating of cakes, making of roses and figures as decoration of cakes.
Best for making figures and crafting the artistic cakes, decoration and coating of cakes.
100% Vegetarian.
Brand – Casablanca
Manufacturer Euroville pvt. Ltd.
Best Before 1 year from date of manufacture
Storage Instructions – Protect from direct heat and sunlight.
NOTE – The ready to roll fondant comes inner bagged in a resealable pot. Please note that on occasion the tabs on these pots get damaged en route, however the product is completely protected by the inner bag. Therefore please allow for lid cracks or missing tabs as they are unavoidable.